Shrimp is an all time favorite of mine!  My parents having been born and raised so close to the coast in Kerala, shrimp was my amma's 'go to' ingredient for added flavor.  Yes she would add prawns in even vegetable dishes to enhance the flavor!. And boy that sure got us kids to eat all their veggies plus lick the plate!  Shrimp or 'Chemeen' as they are called in Kerala are used to make so many wonderful dishes like chemeen curry with coconut(thengarachu curry), chemeen varatharachu curry,  chemmeen green mango curry, prawn masala, prawn cutlets,  dried prawns chutney, prawn pickle etc etc.  Gosh my mouth is watering!
So you can imagine my joy when I was allowed to eat shrimp again by my naturopath after having abstained from eating it for more than a year! This is one of the reasons I like my Paleo diet. !
When we had visited Cancun a couple years ago, the resort we stayed in had a beautiful lunch buffet menu. One of the items on that buffet was 'carribean style' sizzling shrimp! My husband would grin at me as I loaded up my plate with these wonderfully spiced and perfectly grilled shrimp every single day of the 5 days we were there!
Last week as I pulled out shrimp out of the freezer to grill some quickly for my lunch, on a sudden whim I decided to try making it the carribean style – the way we had it at the resort. Going by my memory of the flavors, I quickly put together a marinade using cilantro, ginger,garlic,lemon juice, pepper, and some honey and this wonderful dish was created in less than 30 minutes.  My son was home that day with me for lunch and we both couldn't stop marveling at how good these shrimp turned out to be! And they were pretty darn close to the ones we had at the resort!  Chef Mom deserves a pat on the back!  'Thank you' Thank you' , I say taking my bow as I clean up the table 🙂
I made this recipe again a couple days later since I wanted to share these 'wicked good shrimp' as my son had called them, with my husband. That time I tried grilling in the oven since I had pan fried it the first time and the grilled ones came out perfectly too. So I give directions for both ways in my recipe below.  What are you waiting for? 🙂
For a strict Paleo AIP version, omit the chillies and these will still be fantastic I am sure.
Linking this recipe this week to the following link parties:
Inspiration Galore Project Party
Caribbean Style Grilled Shrimp (Paleo, AIP)
Recipe type:
Appetizer; Main course
Prep time:
Cook time:
Total time:
Shrimp marinated in a tangy, sweet and spicy marinade consisting of cilantro, lemon, garlic and honey and grilled or pan fried in coconut oil to perfection!
RecipeIngredients
16-18 pieces of medium size shrimp (or about 10-12 pieces of jumbo shrimp)
1 cup fresh cilantro
4 large garlic cloves
1 by 1 inch piece of fresh ginger
2 green (serrano) chilies (omit for AIP)
2 tbsp lemon juice
1 tsp honey or maple syrup
¼ tsp sea salt or as needed
1 tbsp coconut aminos
2 tbsp coconut oil
RecipeInstructions
Place all of the listed ingredients other than shrimp and coconut oil in a food processor (use small jar) and blend well. Mixture may be a little chunky and that's ok. Marinate the shrimp in this mixture for about 10-15 mins.
Heat a non stick frying pan. Add the coconut oil. Add the shrimp in the pan and cook for about 1 min on each side. Transfer to a plate and keep covered until serving time.
If grilling in oven, turn oven to Broil setting. Place the shrimp in an Al foil lined tray on skewers and place on the top rack about 4 inches from the flames. Cook for about 2 mins and then flip once and cook for about 1 minute on other side. Take the shrimp out and serve immediately or cover with foil until serving. (Do Not overcook the shrimp as they will turn hard)
Notes
For a Paleo AIP version, skip the green chillies and use coconut aminos instead of soy sauce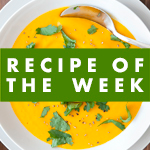 (Visited 2,079 times, 1 visits today)